Hold on to your seats as FutureShock returns for more of our unique brand of Hard-Hitting, Heart Stopping Family Entertainment!

Our January event saw a jam-packed Guildhall rocked to its foundations! The red hot crowd booed and cheered to their hearts content as the exciting events of the evening unfolded. With momentum building to the upcoming supershow in August every step along the way will truly be unmissable so be sure to join us on March 11th for another adrenaline soaked slice of FutureShock Wrestling!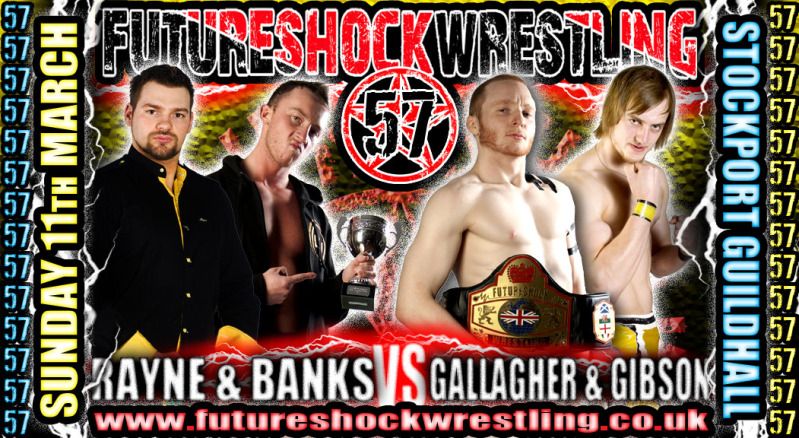 Our Main Event will feature the current FutureShock Champion Jack Gallagher and Trophy Tournament Finalist Zack "Diamond" Gibson taking on two men that have hounded their efforts for the past few months: former Champion Dave Rayne and current Number One Contender and 2012 Trophy Tournament winner CJ Banks!!!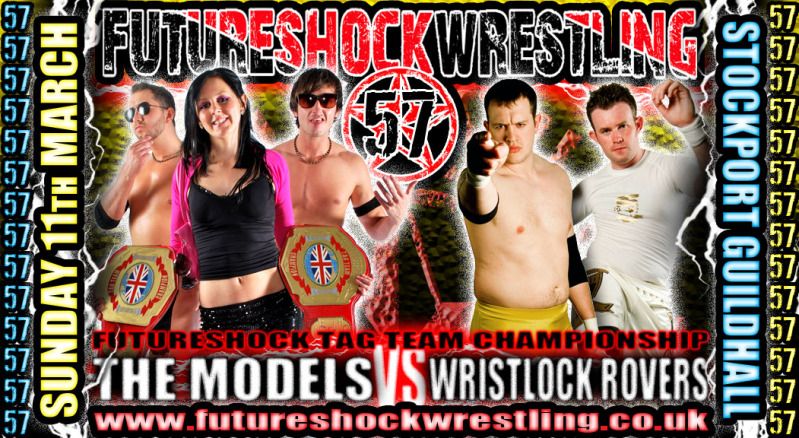 The Tag Team Championship will be on the line as reigning champions, the self-absorbed, Models take on the newly formed squad of Damon Leigh and Raynaldo: The Wristlock Rovers!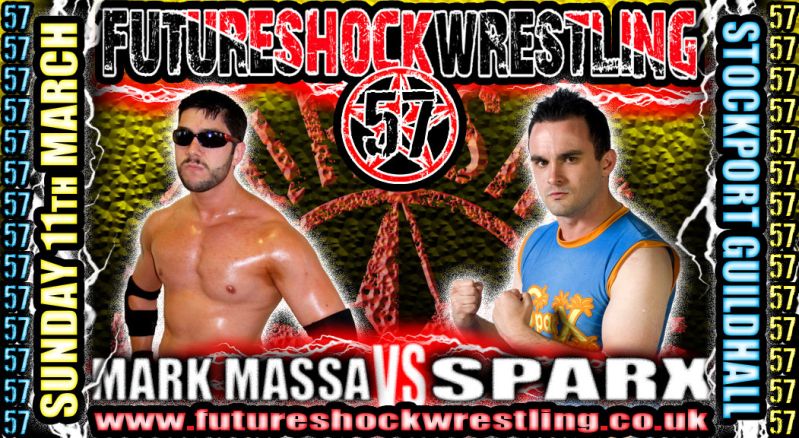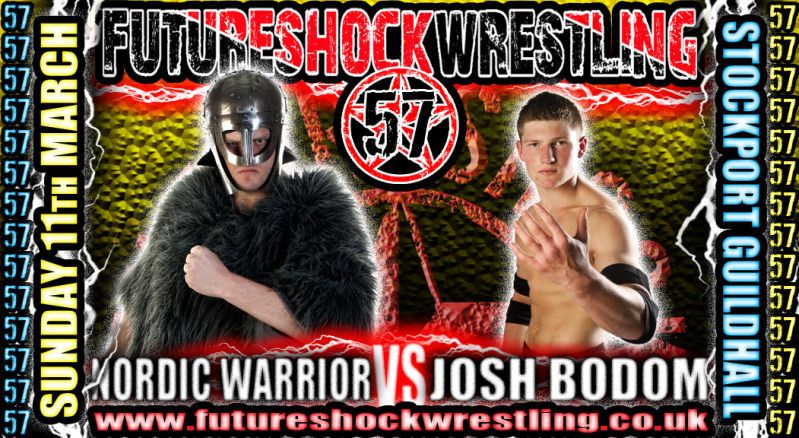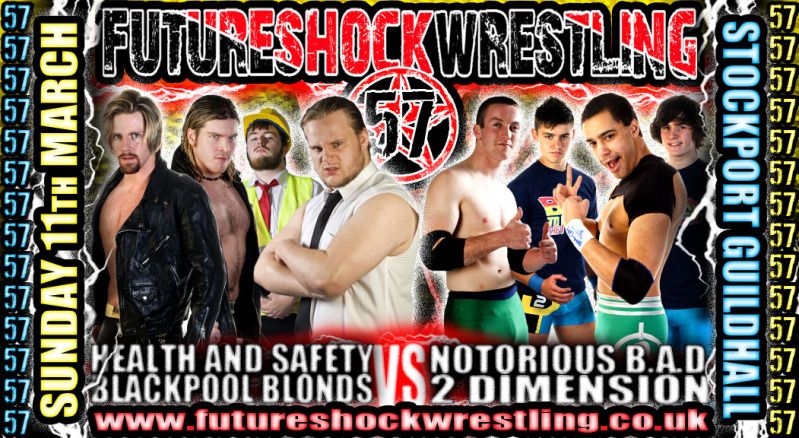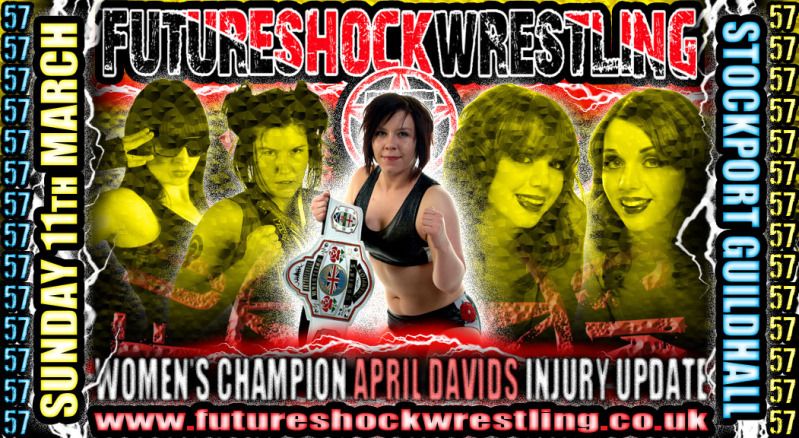 Recently crowned FutureShock Women's Champion April Davids has, due to a serious of head injuries sustained in competition, been advised to take a small amount of time away from the ring. Being a fighting Champion this has weighed heavily on April and she will be in discussions with FutureShock Management over the next few days, with an official announcement on the situation set to be made by April herself at FutureShock 57!



With current FutureShock Women's Champion April Davids out of action due to injury a number of options were discussed. The ultimate decision was that April has until the August Supershow(August 25th) in which to rehab and return to active title defence. If she is unable to defend her championship by August 25th then FutureShock Management will have to strip her of the Title and award it the official Number One Contender.
The officially recognised Number One Contender will be determined by a series of one on one matches fought in a Round Robin tournament between 4 of the best female professional wrestlers in Europe:
Holly and Hannah Blossom, "The Artiste" Rebecca James and "The Female Fight Machine" Jenny Sjodin.
The rules of the Round Robin are simple:
Each competitor will face each other once with 3pts awarded for a win and 1pt each for a draw. Once all the matches have been fought who ever heads the league table will be our Number One Contender. In the event of a joint 1st place there will be a final match between those holding the tie.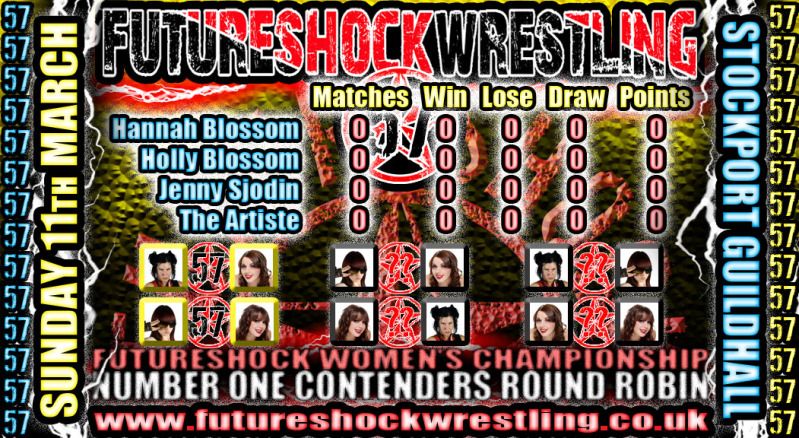 The 1st of our round Robin Matches will be fought at FutureShock 57! - Pro-Wrestling! The rest will be divided up over the next 3 shows so that we can crown a winner on contender in time for our August Supershow!
An early win could really set the tone and pace for the whole competition! Do not miss as the Female Fight Machine Jenny Sjodin takes on Holly Blossom!
FutureShock 57! - Stockport Masonic Guildhall

Sunday 11th March
Stockport Guildhall
Wellington Road South (A6)
Stockport, Cheshire
SK1 3UA

Doors open: 17.30
Show starts: 18:00

Tickets: £10 General Admission
£6 Under 14's/NUS
£30 Family Ticket (2 Adults and 3 Children)
Book in advance for upto 10% Discount!
Edited by Futureshock Wrestling, 07 March 2012 - 18:58.