4 Front Wrestling returns to the Grange Drive Leisure Centre for our annual New Years Wrestleution Spectacular on Saturday 25th February 2012.
A huge double Main Event has been signed with the Annual Money In The Bank Ladder Match and the debut of former World of Sport, WCW, WWE Superstar Dave 'Fit' Finlay, but who will step into battle with the Wrestling Legend? who will enter and more importantly come out victor in the prestigious Money In The Bank contest and become the Number 1 Contender to the 4FW Heavyweight Championship?
4FW are lining up the hottest card possible, tickets will be on sale shortly WWW.4FW-ONLINE.COM
: Official Event Poster :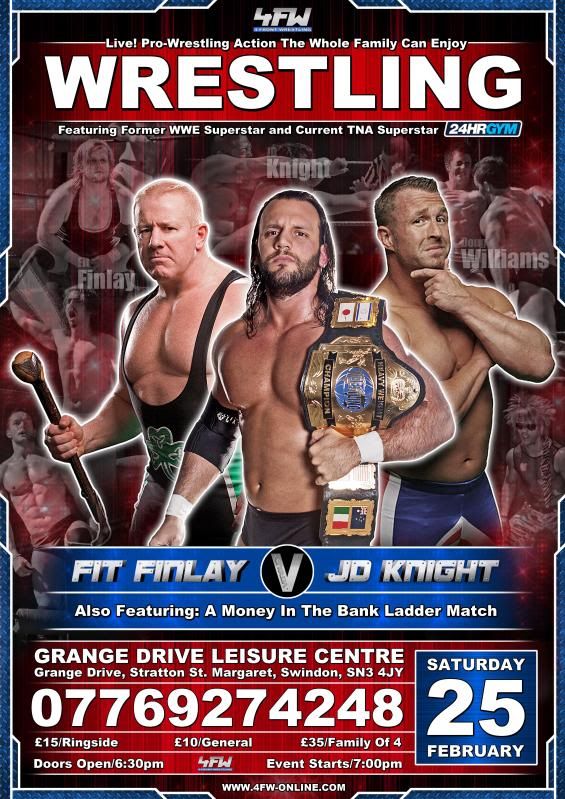 : Announced Stars :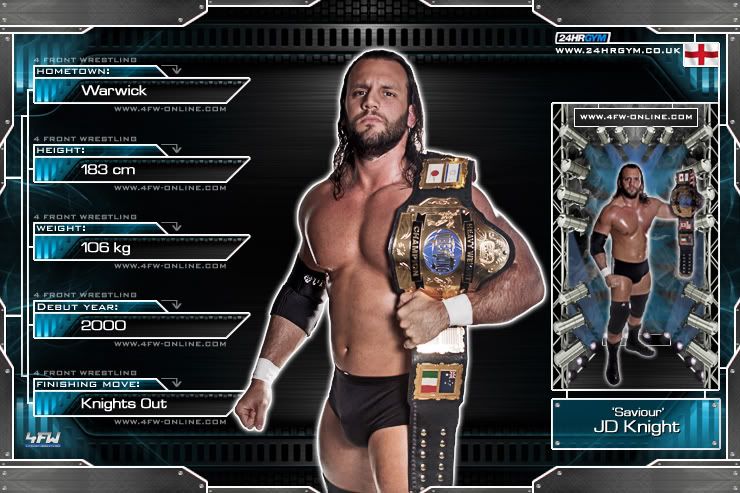 'Saviour' JD Knight
When reviewing the year 2011, most of the 4FW wrestling stars will feel that it was unanimously a success. "The Saviour" JD Knight, however, will view it as a year of 2 halves. Before Steel Cage Warfare in July he was careening towards the cliff edge, his whole career hanging by a thread. He had lost almost everything from his title to his wealth and ever-so-slightly his mind. If it had not been for luck and good fortune, JD Knight may no longer have been in 4FW, let alone its Heavyweight champion.

Fast forward through the cage match and onto October, a revitalised Knight was teamed with Jack Dynamo, who had assisted the Saviour in regaining his title, against long-time nemesis The Saint and blue-chipper Eddie Ryan. Knight scored the win for his team with a quick roll up on The Saint, capitalising on a distraction from Dynamo and, at least for now, sounding the death knell in his feud with the former champion.

JD Knight now stands a top of 4FW, wanting to distance himself from his former steads, The Knight's Templar, and claiming the throne of the company for his own. With his momentum and build up, Knight is setting a standard for himself and has vowed to abolish anyone who stands in his way. With a list of potential challengers, but none with immediate claim to the title, "The Saviour" has been left in the unenviable position of not knowing who will be next to step up to challenge.

With Joel Redman, Eddie Ryan, Behnam Ali and others all with potential claims (as well as other talents from around the world looking for a shot at the prestigious prize) it is in the hands of management to make the decision as to who is worthy of entering the prestigious Money In The Bank Ladder Match 8 competitors will enter but only 1 can be victorious, who will get the next chance at stopping the reign of "The Saviour".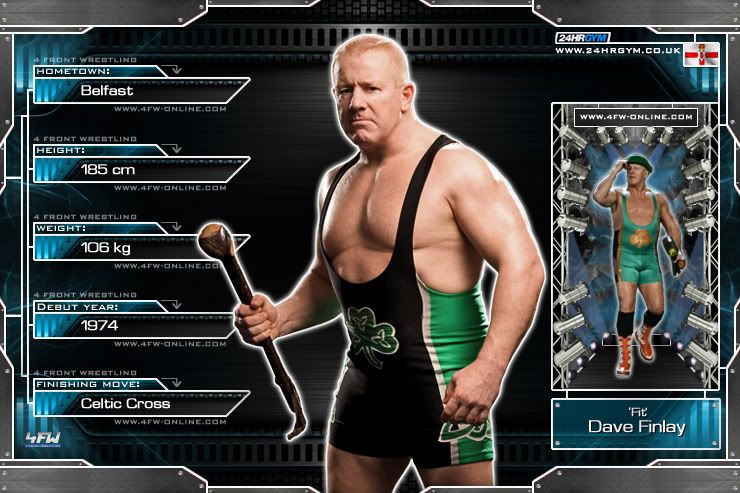 Dave 'Fit' Finlay
There are names in the wrestling world that inspire fear and worry in all that hear them. There are names that, by their mere utterance, will reduce a locker room into worry and panic. These names are few and they are treated with the utmost respect and awe. One of those names is coming to 4FW. One of those names will have everyone in the locker room fretting for their safety. In February for New Year's Wrestleution, one of those names is coming.

And the name is Finlay!

Often regarded as the toughest grappler ever to have come out of Europe, Dave "Fit" Finlay has carved a legacy for himself by clawing his way from the toughest streets of Belfast, Northern Ireland to the very top of the wrestling world. He is renowned for his hard-as-nails brawling ability and he will be bringing the fight to 4FW in February.

Respected and feared in equal measures, the prospect of wrestling Finlay comes with numerous potential rewards. A win over the Irish warrior would be a huge feather in the cap of any 4FW wrestling star but just to be in the ring with him will be the lesson of a lifetime from a man who has headlined Pay-Per-Views for the biggest wrestling companies in the world.

Rest assured that whoever is lucky enough (or unlucky enough, depending how you look at it…) to face the Belfast Bruiser at New Year's Wrestleution will need to bring everything they have and be prepared for a fight like never before.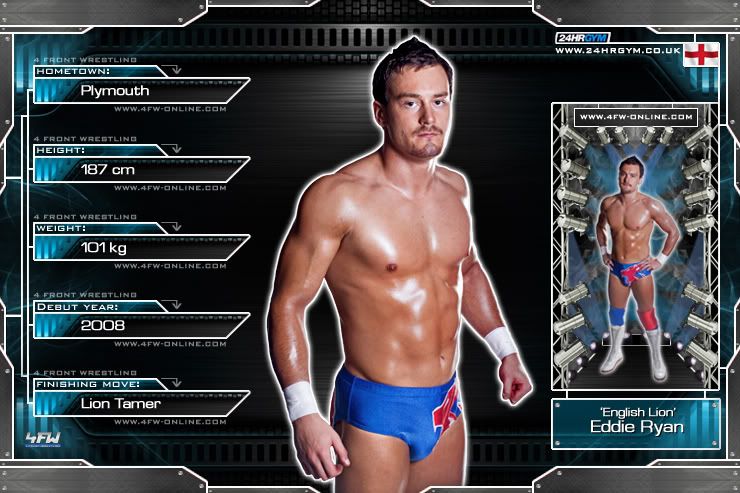 'English Lion' Eddie Ryan
It has been said that the British Professional Wrestling is in resurgence. With a select few companies throughout the country providing shows of the highest quality, 4FW is proud to be held amongst the forerunners. The talent coming up through the academy is universally acclaimed and internationally sought after. The very personification of 4FW's current high standard is Eddie Ryan.

Eddie Ryan is 3 years into his tenure in professional career but you would not be blamed for thinking he has been around for five times that length. Despite having a wise head on young shoulders; Ryan is constantly striving and learning, developing his skills. Fresh off of a hot tour of the USA, Ryan returned to 4FW's Halloween Spectacular in tag team competition vs the 4FW Champion. Although his team lost, Ryan was not pinned and has thrown his name into contention for a title shot through his performance and attitude.

Surely to be deserving of a shot in the near future, Ryan is in no rush for his shot and knows that his time will come. Patience maybe his greatest asset and will surely be rewarded. What Ryan has said, however, is that come 4FW New Year's Wrestleution he will take his fate into his own hands and put on a show to take more steps towards his inevitable goal – the 4FW Heavyweight Championship.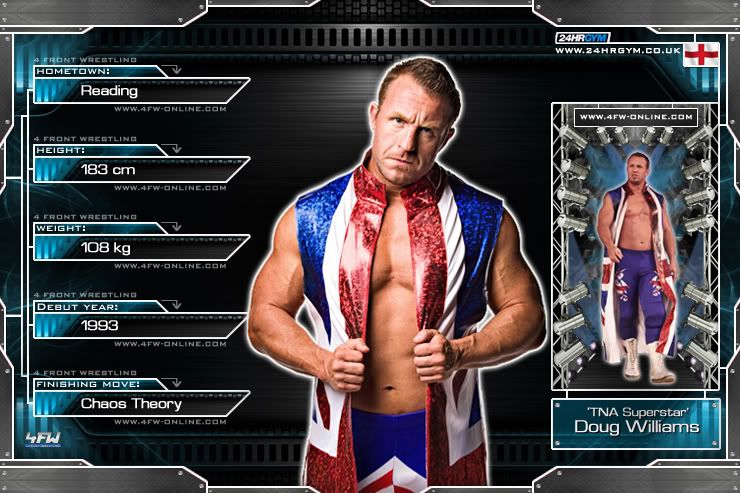 Doug Williams
4FW's New Year's Wrestleution will see a monumental debut in the form of Dave "Fit" Finlay. Whilst all eyes may well be on the battling Irishman and his opponent, JD Knight, 4FW has sought to make sure that the February supershow will be an unforgettable affair. With that said, they have guaranteed no less than 2 huge returns to the 4FW roster. The first is a man who has defined British Wrestling – Doug Williams.

Doug has many years of experience behind him. His achievements speak volumes – he has competed all over the world; from Japan to the USA and everywhere in between. He is widely regarded as the greatest British Wrestler of the past 15 years for his technique, presence and passion. This is a mantle he has carried with pride, most recently being the mastermind leading the British Invasion of TNA.

Williams is currently still signed with TNA Wrestling, where he has been a multi-time champion however, and more importantly, he is the current holder of the 4FW Interfront Trophy. It is still to be decided who his opponent will be, come February. What is for sure is that whoever it is will be stepping into the ring with a technical wrestling wizard that can, and likely will, put them through their paces like never before and will be looking to seal their fate with his patented Chaos Theory.
Jack Dynamo
Jack Dynamo claims that nothing about him is any different than it was a year ago however there is very little doubt in the minds of the masses that Jack Dynamo is a changed man. His metamorphosis from believed hero to despised villain was punctuated by his evocative speech at 4FW Halloween Spectacular. He accused the fans of losing faith in him and told The Saint that it was his pandering to the "moronic parasites" that cost him the 4FW Heavyweight Championship. Dynamo's venom towards his once friend and companion was spewed into the microphone and his distain was heard by the world.

Dynamo took a different approach to the subsequent tag match, however, avoiding interacting with The Saint at all costs, unless the odds were in his favour. Now being braggadocios, arrogant and at the same time cowardly, Dynamo helped JD Knight isolate The Saint's tag team partner, Eddie Ryan, and only snuck cheap shots and jabs to Saint when his back was turned. This was a far cry from the Jack Dynamo of old and completely different to the self-confident braggart that was speaking before the contest.

What has been shocking about the transformation of the former 4FW Heavyweight Champion is that he has displayed an aptitude for change his demeanour and mind-set without so much as a thought. One minute cold and calculating, the next smiling and joking, then suddenly running in fear to attacking someone with fire in his eyes – Dynamo is unpredictable and has left people wondering if they really knew him all along. The 4FW audience will be turning up in their droves to see which Dynamo will appear at New Year's Wrestleution and, more importantly, hoping that he has to cross paths with The Saint.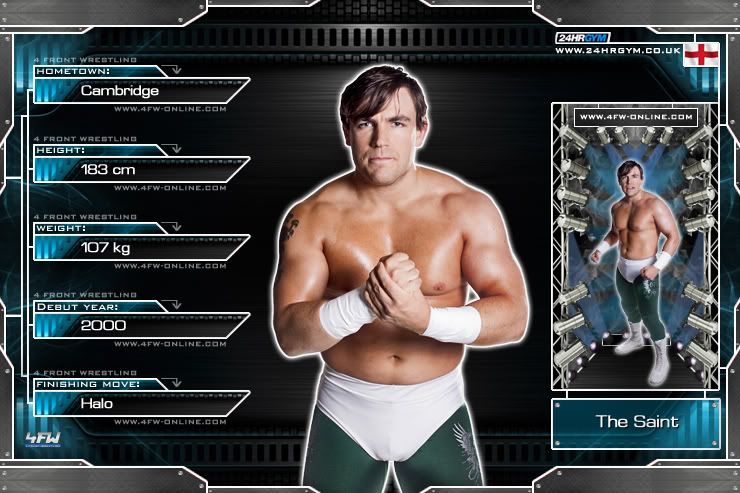 The Saint
After hard work and dedication in the world of professional wrestling there are few rewards higher than the 4FW Heavyweight championship. It is a belt coveted by athletes across the globe and 4FW management receives regular requests for men desiring a shot at the gold.

Of those men that have held it in recent memory, none have held it with the esteem of The Saint. A man who commands respect for his achievements, The Saint was a humble 4FW heavyweight champion. Working tirelessly for years, constantly being told that he would never reach that highest ground, The Saint defied the odds and made it to the top.

That was until fate, or rather Jack Dynamo, interfered. Dynamo's disliking of The Saint was a direct result of The Saint rising to the top of 4FW. The Saint has a wealth of experience behind him facing stars from Pro Wrestling NOAH, WWE and all around the UK.

He will be looking to employee his patented Halo or the neck-crushing Saint-DT to make his way back to the Promised Land. The former champion has his agenda set – he will defeat Jack Dynamo and use him to set an example that you cannot stand in the way of a man determined to get back to the top.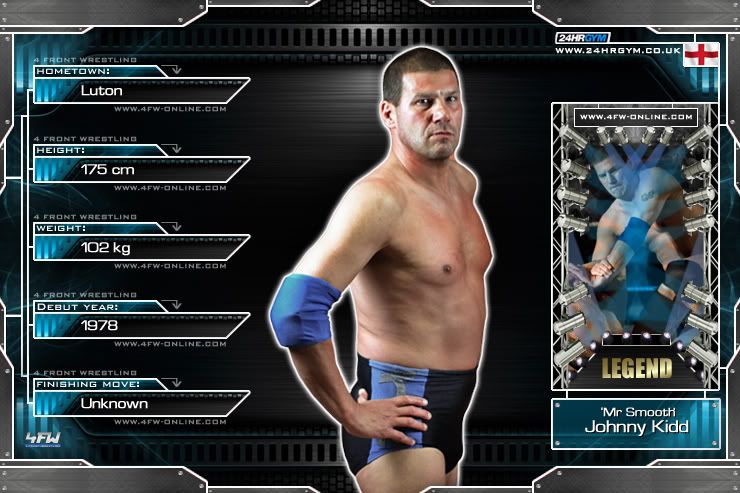 'Mr Smooth' Johnny Kidd
It is easy to assume that 4FW is focussed on the present and future, with heavy promotion and praise solidly behind the likes of The Saint, Owen Phoenix and Eddie Reyes. What could be over looked is the company's deep ties to history and lineage as well as their respect and passion for the great legends of the past.

One such legend of the World of Sport era will be joining the line-up at New Year's Wrestleution, debuting for the company and looking to remind a new generation of fans just what British Professional wrestling is capable of producing. He is known as "Mr Smooth" Johnny Kidd.

With over 30 years' worth of experience in the mat game, travelling the coast to coast in England, across Europe and recently across to the United States in his wrestling endeavours, Johnny Kidd is ranked amongst the top exponents of the traditional British Style of wrestling and who wouldn't be when you have mastered it as he has? Executing everything he does with calculated precision, fans will be wowed by the technical display that he will produce.

Whilst it is not without its critics, 4FW are proud to welcome Johnny Kidd and the British Style of Professional Wrestling to its shows and more over guarantee that Mr Smooth's contest will be a match that fans young and old alike will not want to miss.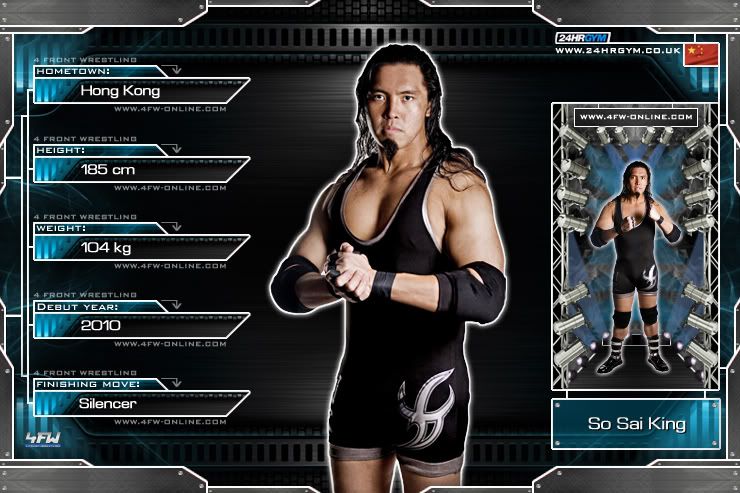 'Assassin' So Sai King
When a man enters 4FW with little fanfare, being brought onto the scene as a hired gun at the employ of a Machiavellian owner to do his evil biding and protect his assets, people will normally look at them with contempt and distain.

When So Sai King entered 4FW under these circumstances, people looked at him with fear. Standing over 6 feet tall and weighing in excess of 230 lbs, the man known simply as Assassin was hired by exiled former owner Phillip Carter as personal insurance against his nemesis'.

Following the departure of Carter, King was paid off to act as security for the Knight's Templar however his services turned out to be counter-productive to the modus operandi of the Templars.

Eventually, the silent man from China came to loggerheads with team mate and polar opposite, Professor Gilligan Gordon, over the latter's own failings rather than anything So Sai did. Unable to accept his own short-comings when it came to protecting JD Knight in a Steel Cage match lead The Professor to launch a tirade against King that lead to the fracturing of the Knight's unit.

Having teamed briefly with fellow oriental star Ho Holun to form the Asian Invasion, So Sai King is now standing on his own for the first time in his tenure in 4FW. His first objective is to get revenge on Gordon and his Bruiser Street Mob team mate Matt Lomaxx and he may very well be able to do so at New Years Wrestleution.

Owen Phoenix
When the world is buzzing about something, it is difficult not to get caught up in the hype. Whether it is a tv sensation or the latest fashion trend – people of all creeds and cultures take notice and the impact is felt globally. Currently, in the professional wrestling world there is buzz and hype around the fastest growing company in Europe and that company is 4FW. At the epicentre of 4FW's storm is Owen Phoenix.

Young Owen has carved out a path for himself that has seen him compete for some of the biggest companies in Japan, winning the approval of established stars with his work ethic and high standards.

The youngest competitor on the 4FW roster recently became the youngest man ever to receive a WWE try out. Receiving acclaim and praise from wrestling veteran and fellow Brit William Regal, Phoenix has truly risen above anyone else in the talent pool of 4FW.

Returning home to Swindon in 2012, Phoenix looks to further his reign as the 4FW Cruiserweight Champion and keep soaring higher than any other in man on the roster.

To do this he has vowed victory at 4FW New Year's Wrestleution; whoever he faces has been warned to prepare to face an onslaught of offence that the whole world is talking about.
'The Sheik' Behnam Ali
There is a buzz word surrounding 4FW at this time. It is in the locker room and the offices. It is on the lips of the fans, officials and the wrestlers. The word is momentum. With the successes of the recent events and the drive that 4FW management have towards the future, everyone is doing all they can that the company maintains "momentum".

There are a number of the up and coming stars in 4FW that really personify the word however there is one that currently stands out above the rest. It would perhaps be remiss to call him "up and comer" as many are saying that after the Halloween Spectacular, this man is a star. His name is Behnam Ali.

"The Sheik" seized a golden opportunity at the October event and elevated himself to the upper echelon of 4FW. Going from second ranked Junior Heavyweight to Main Event star in one spectacular night, Ali opened eyes and dropped jaws in his contest against retiring Japanese legend, Dick Togo. In spite of being on the losing side of the battle, many are siting this as the match that will make Behnam's career.

Ali himself has refused to comment on his feelings about the night however he has stated very openly that in February he will be looking for nothing but victory and to build on his momentum in a renewed quest for gold.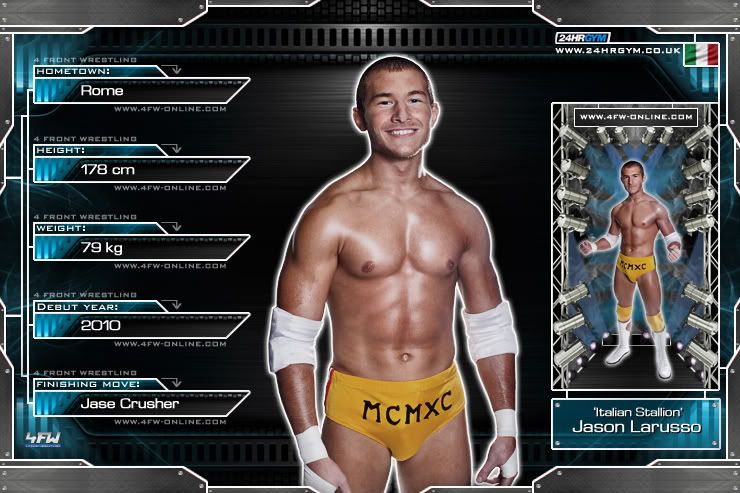 Jason Larusso
4FW's new directive and buzzword is momentum. The company and its wrestling stars are all gearing up for a huge 2012, with one and all looking to maintain and build upon the momentum of a huge 4FW. Critics are claiming that 2011 was the breakout year for 4FW, setting itself up as a top National show, rather than a regional stand out. The shows have also started to break the borders of foreign lands, with compliments and praise coming from distant lands, both East and West.

Knowing what appearing on the 4FW showcases can do for a wrestler's career, as well as having built a head of steam towards the latter part of 2011, Jason Larusso is looking to establish himself in 2012 as the face of the Junior Heavyweights in 4FW.

A win over Wild Boar at the Halloween supershow last October was a huge stepping stone for the Italian star. Wild Boar, himself a growing name in British Junior Heavyweight wrestling, put in a phenomenal showing but was toppled by a mighty top rope Jace Crusher from Larusso.

New Year's Wrestleution 2012 is where Larusso will try and take the next step in reaching the pinnacle of the 4FW Junior Heavyweights. Whoever the opponent maybe, young Jason Larusso has a solemn vow to beat them and continue his growing momentum.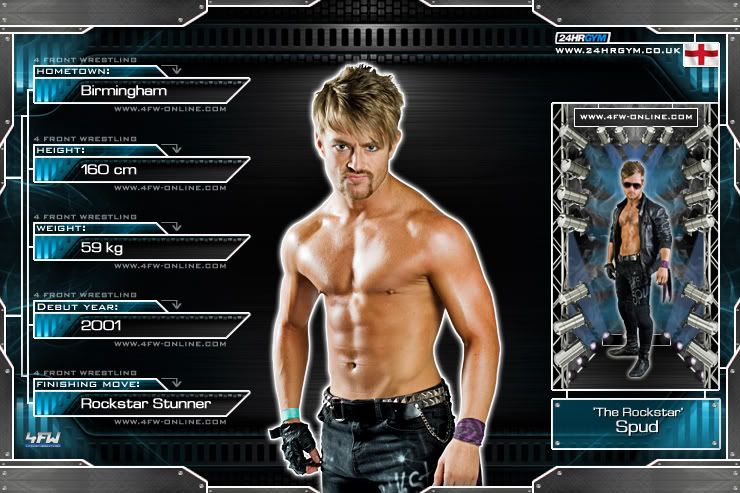 Rockstar Spud
Nowadays in British Professional wrestling there are names that create a positive buzz when they are uttered. Whether that be for their death defying high-flying, their artistic technical wrestling, or their violent brawling these names bring about excitement and make a show feel "must see". There is however only one name that generates buzz for his controversy. A name that people will turn up to see based on how outlandish and near to the knuckle he is going to be. The man in question is the Rockstar they call Spud!

The charismatic Junior Heavyweight, self-dubbed "The Baby Jesus of British Wrestling" will be returning to 4FW to (in his words) "bring some life and character" into the promotion. This is sure to raise the ire of many of the stars of the Swindon Company and its peers who have recently been on a high following a string of successful events and public outpouring of praise.

When approached for further comment, the Rockstar was quick to fire of more diatribes, stating "Last time 4FW had the Saint, Eddie Ryan and Dick Togo. SNORE!! I thought it sucked. Dick sucked!! HAHA!! This time they have the Baby Jesus of British Wrestling and I could dump in the ring to produce more character than any match that took place last time. The only saving grace about that show is thankfully it is over. But not in the same way I am… The Rockstar Spud has left the building. You dickhead…" He then proceeded to spit on the floor and walked out.

This was a short, unpleasant encounter that is no doubt a foreshadowing of things to come at New Year's Wrestleution. Whoever is signed to face the Rockstar had better keep their cool as Spud is looking for victory in his 4FW return and, to coin a phrase, "what a Rockstar wants, a Rockstar gets". Usually…
Wild Boar
4FW's Junior Heavyweight division has been heating up since Owen Phoenix took the mantle of Champion. The greatest talents from the entire UK, as well as abroad, have come searching for opportunity to compete for arguably the most coveted title in its weight class in Europe. Of those that have journey to Swindon, none have made more of an impression than Wild Boar.

Aptly described as "pocket dynamite", the compact competitor has torn a hole through the Junior Heavyweight roster as well as taking it to larger 4FW competitors. It is easy for anyone to underestimate the man based solely on his size and that mistake has cost many opponents the victory. He does not fear and throws every ounce of his strength and power into every move he makes. Wild Boar has a considerable repertoire of impressive throws and suplexes, which highlights a deadly combination of technical, mat based expertise, high-flying assaults and lethal leverage manoeuvres.

There are many opportunities for the Welsh-born star to take in the 4FW ring, whether in the Junior Heavyweight Division or the annual Money in the Bank Ladder match. Whilst Wild Boar's task at New Year's Wrestleution has not been fully disclosed, no matter what is put in his way, he will be looking to gore his way through it.
: Announced Matches :
'Saviour' JD Knight -vs- Dave 'Fit' Finlay
With speculation abounding that JD Knight may have been pulling rank in 4FW and holding specific talents to ransom (more will become clear soon) it was in the best interests of the company's management to show that they do not play favourites and will not be bullied. Therefore 4FW have laid down the law and signed "The Saviour" in a contest where he will go into battle against the fighting Irishman, The Belfast Bruiser – Dave "Fit" Finlay!

With the rise of young 4FW talent such as Eddie Ryan, Jason Larusso and Behnam Ali, Knight has been careful almost to a fault to provide reasons not to allow title opportunities to all of the up-and-comers. What Knight failed to do was provide a reason why the legendary star from Belfast, N. Ireland, could not have a chance to capture the belt. So the match is set – Dave Finlay vs JD Knight – one on one!

Knight has yet to face a challenge like this, never before has a man with such credentials faced the 4FW Heavyweight Champion. What will Knight be able to do against a man that has the edge in size, experience and violence on his side? With the disbanding of the Knights Templar, 4FW New Year's Wrestleution could very well be the last defence of JD Knight!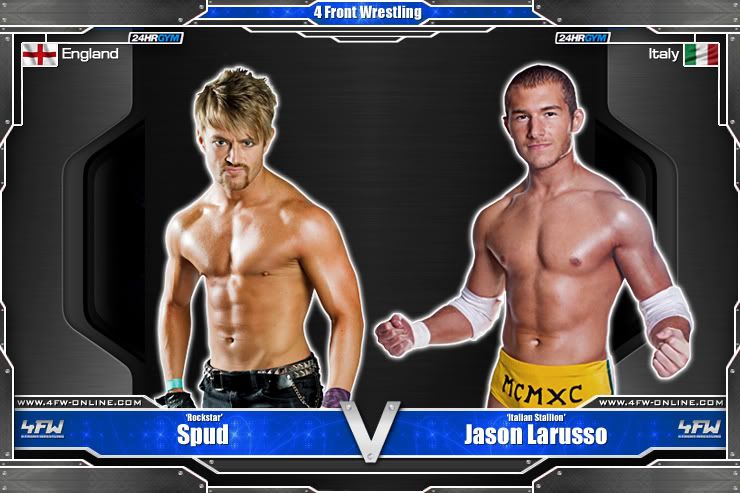 Rockstar Spud -vs- 'Italian Stallion' Jason Larusso
The first Money in the Bank Qualifier to be held at New Year's Wrestleution will pit the Rockstar they call Spud vs the Italian Stallion, Jason Larusso.

When negotiating terms with returning Rockstar Spud, 4FW had to agree to allow him to filter his opponents as he wanted to pick someone "truly worthy" of being in the ring with him. The reasons for his rejections were compelling to say the least. Owen Phoenix was "too small", Eddie Ryan was "too British", So Sai King was "too Chinese". However when it came to Jason Larusso, he was "just right".

When looking at the evidence, it appears as though the Rockstar was looking to shy away from anyone that could both over shadow him and block his spot light or that would impose a too daunting physical threat. The Rockstar, in true prima donna fashion, opted for someone who remains humble and polite, shying away from the paparazzi and press. The fragile ego of the self- titled baby Jesus of British wrestling did not want to take any risks. This maybe his greatest mistake!

Jason Larusso has been among the breakout stars of 4FW and has had show-stealing performances on several of the biggest events in 2011. Hot on a streak of momentum following a huge victory over Wild Boar, the fire-blooded Italian is looking to keep that up and qualify for the Money in the Bank match to earn a shot at the 4FW Heavyweight Champion. Can the up and comer defeat the Rockstar or will Spud's star be too hot for Larusso to handle?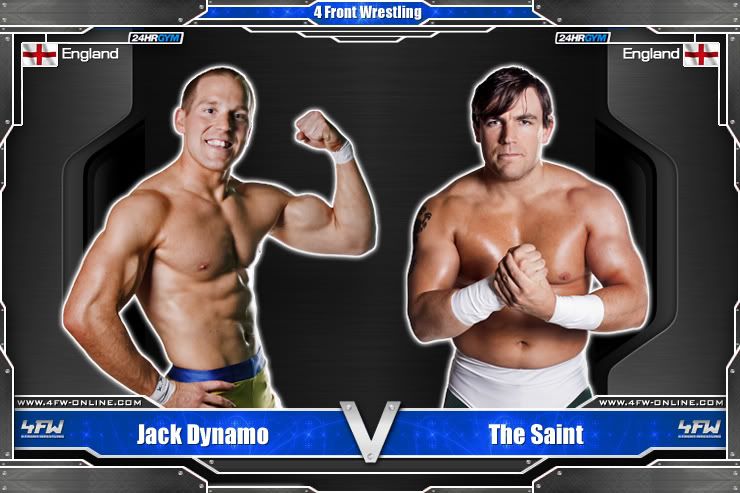 Jack Dynamo -vs- The Saint
People had said for many, many years that they did not believe the Saint would ever stand atop the mountain and reign as 4FW Heavyweight Champion. It appeared that very few believed in him and, throughout his career, all his hard work and determination came up short. New Years Wrestleution 2011, The Saint rose above adversity and defeated JD Knight, against all odds, making him the most unlikely but most deserving champion in the entire history of the Championship.

The Saint could have been excused for becoming arrogant after proving wrong ever naysayer and doubter but he remained strong willed, confident and yet humble. His attitude further endeared him to the fans and the more upstanding members of the 4FW locker room however it did not impress Jack Dynamo. Side-lined with injury, Jack sat and watched as The Saint rose to prominence, smile on his face.

Regardless of how it appeared at surface level, Jack Dynamo boiled under the skin and grew to hate The Saint. With evil intentions in mind he smashed The Saint in the head with a steel chair and cost him his coveted championship belt. Turning his back on the fans and The Saint, this new, foul tempered Dynamo believed himself to be the rightful (if uncrowned) Champion of 4FW.

Following his heinous actions, the pair were pitted opposite each other in a tag team contest at Halloween Spectacular, which saw the Saint come up short as a result of Dynamo's distractions and completely unable to extract any revenge on his foe. Onto February and it is one on one action. Jack Dynamo will have nowhere to hide and no place to run when he is standing opposite the motivated Saint.

When these two clash, Dynamo will need to keep his wits and the Saint his cool if this is not to degenerate into an all-out war.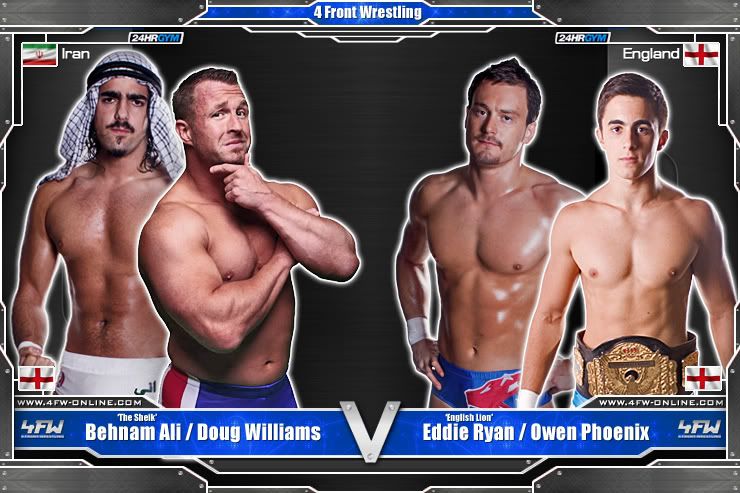 'The Sheik' Behnam Ali / Doug Williams -vs- 'English Lion' Eddie Ryan / Owen Phoenix
Late last year, 4FW management were contacted and politely asked by "representatives" of JD Knight to put together qualifying matches for the annual "Money in the Bank" ladder match. The "representatives" were quick to stress the importance of properly suitable opponents for the current 4FW champion and asked that Owen Phoenix, Behnam Ali, Eddie Ryan and more be put to the test before being allowed to compete in the yearly highlight match.

Sceptical at first, 4FW management originally negated but further threats were made and it was resolved that qualifying matches would take place. Initially looking at 2 singles matches (much to the pleasure of JD and his cronies) it was eventually decided that a tag team contest would happen. This match however is not for the satisfaction of JD Knight; it is purely for the fans of 4FW. The match will see Doug Williams and Behnam Ali face Eddie Ryan and Owen Phoenix!

With the signing of TNA Superstar Doug Williams 4FW management saw an opportunity to showcase its talented stars as well as give them exposure working alongside and against the top British Export in the last 15 years. The Anarchist returns holding the 4FW Interfront Trophy and will be looking to add more gold to his already impressive resume with a chance to go into the Money in the Bank. The resumes of Ryan, Ali and Phoenix pale in comparison to that of the veteran however, in the short times that they have been competing, all 3 have racked up substantial credits. Similarly to Williams 2 have wrestled extensively in Japan with Ryan heading out 13th January and Ryan, who sites Doug as one of his role models, has followed The British Invasion into the United States of America.

Spanning all of the biggest companies in wrestling, these 4 stars are looking to put on 5 star performances and for one side there is the chance to go forward into the yearly showcase, the Money in the Bank ladder match. There is no telling what will happen on the evening however it can surely be said that JD Knight will not be the one smiling as 4FW Management has turned the champion's idea into a match of the year contender. Maybe the 4FW crowd will have something to thank The Saviour for after all?
Mad Dog Max -vs- 'Mr Smooth' Johnny Kidd
Writeup Coming Soon
: 4FW: Junior Heavyweight League 2012 :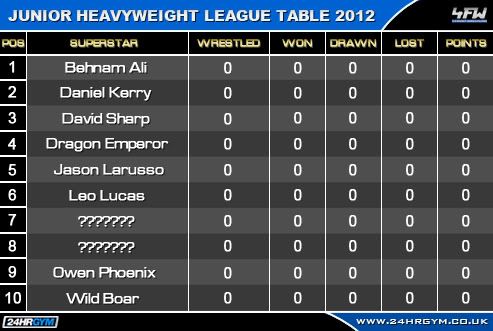 4 Front Wrestling are proud to introduce the Junior Heavyweight League, the League consists of 10 of the top Junior Heavyweight talents currently plying there trade in the United Kingdom.
The Junior Heavweight League rules:
Every Wrestler will compete in 18 matches from January through to December.
Each match will have a 25 minute time limit.
3 points for a win.
1 point for a draw.
0 points for a loss.
The Wrestlers that finishes in the bottom 2 will be removed from the League for 2013.
The Wrestler that comes top will receive a Trophy, prize money from sponsors and a shot at the 4FW Junior Heavyweight Champion (If the Junior Heavyweight Champion wins the League he will receive a Heavyweight Championship match).
: New Years Wrestleution 2012 :
Saturday 25th February 2012






Grange Drive Leisure Centre, Grange Drive, Stratton St. Margaret, SN3 4JY

Doors Open: 6:30pm
Event Starts: 7:00pm

Tickets: £15/Ringside, £10/General, £35/Family of 4
Edited by 4FWpromoter, 06 March 2012 - 21:42.