I was watching the Bret Hart vs. Davey Boy Smith match from 1992 at Wembley Stadium for the first time in ages, and was compelled to star this thread. The pop Bulldog gets as soon as his music hits, is deafening. And the response doesn't let up. It actually raises in volume as soon as he comes out from the curtain and doesn't stop until the match is underway. Just got me thinking about how class Smith was, and how important he was to the appeal that WWF had in this country. He pretty much sold out the biggest house WWF has ever put on. Bret Hart has a different take on it in his book, but there's no way this crowd wasn't 100% behind the Bulldog in "Ma' Home Toon" of London.
I remember watching this on Sky when I was a kid. It was one of the things that really hooked me on wrestling, because it came across like such a massive occasion. It was a sunny day in Britain, at Wembley and the wrestling was on. What more could you want? As the below image shows, he had a Bulldog in real life as well, so the man even lived the gimmick.
As we all know, he started off with his cousin, Dynamite Kid in the 80s gaining a reputation around the globe as a top wrestler in the best tag team in the land. But I was to young to see them, really. It was Smiths big WWF run that got me hooked on him.
There was a few moments, which made him look like a massive star in the 90s. The night he won the Samovar Trophy at the Royal Albert Hall in a Battle Royal couldn't have made him look any better. He eliminated Typhoon and The Mountie on his own at the end, and ended the night celebrating with the fans going mental after our pal Andre The Giant walked in and made the save.
And if your that over, you get your gimmicks to flog. I'm sure we all had the British Bulldog Hasbro as a kid. He was a good shape to knock the likes of The Undertaker or Kamala or Shredder about. You could easily flick his arm up into a power slam position and do all his trademark moves.
Just to Illustrate how great a bloke he was, look at how he's trying to save the Boss Man from certain elimination. You could always count on the Bulldog to save you, if you were a baby face in a Rumble match.
He had a run in WCW, where WCW tried to exploit his popularity in the UK. Smith was a regular partner of WCW's big star at the time Sting, and rubbed shoulders with the likes of Sid Vicious and Big Van Vader in WCW's headline positions. Things looked to be going well for him there.
SummerSlam 94 was class, because Bret wrestled Owen Hart in that great cage match. What was brilliant was, Todd Pettingill announced that all (ALL) the Hart Family would be at ringside. This got me thinking that Bulldog had to be there. After all, wrestling was real in 1994 (it was real, I swear. Only later was it fake), The British Bulldog would have to have been there for moral support for his bird, Diana. And he was there. Not only that, but while Bulldog was in the front row, dressed in a very 1990s type outfit, Jim Neidhart clotheslined the Bulldog (and his wife also took a bump to steal the spot) and the Bulldog got involved in a full on brawl. It was a cracking angle. I recommend it to anyone. The Harts looked like they wanted to rip Owen and Anvil's dead off, as they swatted away the brothers. Only Davey Boy was man enough to break through the Anvil and The Rockets assault. He looked great as well.
"OHHHHOOFFFFFFFF"
He got onto the phone to President Monsoon that very night demanding a contract, which was granted. I dont know why he decided to use the phone, considering he was only a few inches away from him at the time:
After an uneventful first few months, he was teamed with Lex Luger to form the Allied Powers. They are seen as paint dryingly rotten by some today, but I thought they were class. Any team who has matching outfits and ring jackets as good as they had, deserve praise from anyone. They didn't last long, and had a match with the Harris Brothers so boring, you were glad when King Kong Bundy's music hit at WrestleMania XI.
A heel turn followed and it was back to wrestling his brother in law again. He wrestled his brother in law Bret in 1995, in a match better than the SummerSlam match. Bulldog had never looked more athletic or sharper. Its great to watch, looking back, just to see how much he'd slimmed down and got himself into a shape where he could be good as he could be. He never did prize the belt away from Bret, as much as he looks like he's desperate to here. He never won the belt from anyone actually, which I always thought was a shame. He looked like he could have taken it from Diesel after his heel turn and much needed haircut in the Summer of 95:
1996 was spent teaming with his brother-in-law, Owen Hart and even challenging Shawn Michaels for the WWF belt. Following his title matches with HBK, his contract ran out, and an angle was setup on Nitro for his debut, where he was going to be the 5th member of the nWo, but changed his mind at the last minute. His team with Owen was brilliant. Its pretty much common knowledge that they more or less saved the tag division in 1996. They were the best team in the company by a country mile. My favourite moment from the team was when they were supposed to be going through a bit of tension. Owen Hart 'won' another Slammy and decided to taunt Bulldog about it. When the camera went on the Bulldog, he was beeming at his friends interview. He couldnt keep his laugh in. Mick Foley mentions it in his book as well, as being a touching moment. Just look at him: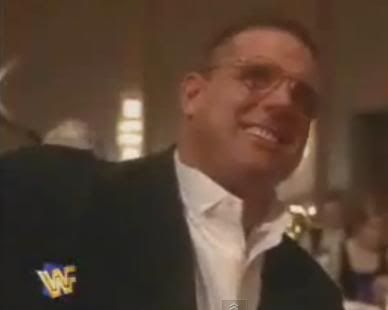 1997 was a great year for him, in the ring. He won the European belt in Germany, infront of a crowd so hot, you have to think there was more than a few Brits making the way over. It was like 1992 again. Owen and Davey had a brilliant match and the crowd couldnt stop cheering. He them made up with his brother-in-laws Bret and Owen and formed the Hart Foundation. This was the last year he was close to being the performer he was. Injuries and other things took over, and his last ever great match came against Shawn Michaels in Birmingham, where the crowd bottled the ring when Bulldog "passed out from the pain". They were going to have a rematch but neither man was on the roster by 1998.
He left WWF, through loyality to Bret (which cost Bulldog $100,000 to leave) and joined up with WCW. He was shit, the promotion only signed him to make Hart happy. There was about 80 members of the roster. He got lost and took advantage the partying the WCW heads didn't mind in 1998.
He fucked his back on the Warriors trapped door and it was big news in this country when he was in hospital and couldnt walk for months. All the papers reported it. Still, WWF resigned him anyway, but he was finished when he came back. He could hardly move and he wore jeans and had shit music. The only good thing about it was me and my mate still say in a Lancashire accent "I WANT MY TITLE SHOT, NUUU".
For me, Smith was the biggest star thats ever came out of this country, and the best all rounder. For every Johnny Saint match or every Dynamite Kid classic, you can always point to 80,000 people screeming their head off as he lifts the Intercontinental title. People say Scott Hall was a waste of talent, but if Davey Boy hadnt been so into the drug scene which lead to numerous firings and injuries, he could have done anything. At his best, he had pace, athleticism, power, technique, the lot. Such a waste. His legacy lives on in his son, who wears a cowboy hat for some reason. He's shite though.
Now speak about him.
Edited by Ian_hitmanhart, 30 June 2011 - 22:22.